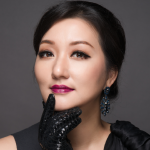 劉穎星海音樂學院副教授,碩士生導師。第七屆中國高等院校中國歌劇及藝術歌曲演唱比賽評委;香港國際聲樂公開賽常任評委。三次榮獲"中國音樂金鐘獎"大獎,2013年榮獲"第六屆北京國際音樂比賽-歌劇比賽"女聲組第二名。
曾受邀在國家大劇院主演歌劇《傷逝》;歌劇《這裡的黎明靜悄悄》;受邀在上海大劇院主演歌劇《卡門》;受邀在上海交響樂團音樂廳中國首演柏遼茲戲劇交響曲《羅密歐與茱麗葉》;在北京世紀劇院連袂《魏松攜上海歌劇院藝術家音樂會》並於中央台音樂頻道播出;受邀珠江交響樂團主演歌劇《茶花女》;受邀珠江交響樂團主演大型交響清唱劇《江姐》;曾受邀廣東省中山市政府赴馬來西亞演出大型交響音詩《孫中山》;並多次受邀演唱亨德爾清唱劇《彌賽亞》;大型交響清唱劇《虎門長嘯》;《貝多芬第九交響曲》;《威爾第紀念音樂會》等交響音樂重大作品的演出;曾受邀中央電視臺音樂頻道錄製《天天把歌唱》。
2009年9月與星海音樂學院交響樂團成功舉辦柏遼茲聲樂套曲《夏夜》獨唱音樂會。2014年11月導演歌劇《費加羅的婚禮》被選入第四屆中國校園戲劇節榮獲"校園戲劇之星"和"組織獎"。2007年12月受邀太平洋影音公司首發個人專輯《享聽—劉穎》;2010年12月受邀廣州新時代影音公司發行個人專輯《告別莫斯科》
Liu Ying is a three time award winner of the China Golden Bell Award-Bronze Prizes in 2004 and 2009 respectively and Silver Prize in 2013.She was also a Gold Award Winner at the Third National Peacock Award for Vocal Teachers in Art Institutes of Higher Education and a third prize winner at The 6th Beijing International Music Competition (Opera competition) which the First Prize has not been awarded.
Liu Ying was made her Shanghai Opera House debut in'Carmen'in 2014 .She was invited to play a crucial role as"Ranka"of"The dawns here are quiet"in the National Center in 2015. She sing in the opera'Mourning'in the National Center for the Performing Arts in 2011 and was also featured at the China premiere of Dramatic Symphony- Romeo and Juliet by Berlioz at the Shanghai Symphony Orchestra Concert Hall.Liu Ying was broadcasted in the Music Channel CCTV for her performance at the'Wei Song and artists of the Shanghai Opera House'in Century Theatre of Beijing and was again invited to record in the TV show'Sing Everyday'.She has also participated in many large productions such as Symphonic Cantata'Sister Jiang',Symphonic Poem'Sun Yat-sen',Symphonic Cantata'Humen Howling',Handel's Messiah,  Beethoven Symphony No.9 and Verdi's Memorial Concert.
In September 2009,Liu Ying held her solo concert with the Symphony Orchestra of the Xinghai Conservatory of Music for Belioz's Song Cycle'Les Nuits d été'.As a director, Liu Ying has led the Music Performance Department of the South China Normal University for Chinese Opera'Mourning'.In 2014, her production of the opera 'Marriage of Figaro'was awarded'Drama Star'and'Organizing Prize'in The 4th China School Drama Festival. Liu Ying has released two Albums-'Enjoy Listening- LiuYing'by Pacific Recording Company in 2007and'Farewell to Moscow'by New Era Recording Company in 2010.