英国著名作曲家、音乐家Perry Martin | 2023第十届香港-国际声乐公开赛
2023第十届香港-国际声乐公开赛 邀请到了著名声乐家、作曲家、教育家以及乐界权威人士担任评委,从多维度保证大赛的专业度及公平性。
在比赛火热进行之际, 英国著名作曲家、音乐家Perry Martin 诚挚邀请有才华的你来到这个舞台,一展乐感和歌声!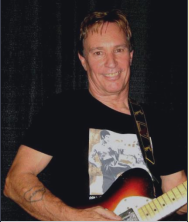 Perry Martin
英國著名作曲家、音樂家
In his long and varied career as a musician, songwriter, singer and producer, Perry has worked with such show biz luminaries as the Bee Gees, Ambrosia, Little River Band, B.J. Thomas, and country superstars Hal Ketchum and Lonestar―to name just a few.
During his years as a performer, producer and songwriter in Hong Kong in the 1970's and early-1980's he released three commercially successful albums of original songs (including the song "It's Over" which hit Number 1 on the RTHK Charts) as well as writing songs for other local artists such as George Lam, Eliza Chan and pop legend Rowena Cortes.
Perry left Hong Kong in 1983 and spent 29 years in California, recording, performing and producing music. He returned to Hong Kong in 2012 and since then his performances have included Special Guest Guitarist at the Wine and Jazz Festival, backing local music icon Anders Nelsson, and sold-out shows at Back Stage Live, Grappas, and Bellini's in The Macau Venetian.
In August 2014, following in the wake of his very successful 2013 audiophile CD "Perry Martin and Friends" he released his second audiophile CD for Fung Hang Record, once again featuring guest performances by Anders Nelsson and HK superstar Rowena Cortes, who became Perry's wife in May 2013.
He has also produced two multi-award-winning CDs for his wife, Fung Hang Record's artist Rowena Cortes: 2017's "Red Wine"—featuring new arrangements of songs by Japanese singer-songwriter Koji Tamaki, and 2020's "Rainy Day" which several music reviewers included in their Top Five Best CDs Lists of 2020. "Rainy Day" was also one of the Top Ten Best-selling CDs of 2020-2021.
Perry and Rowena are currently hard at work on their third CD for Fung Hang Record. It is slated for release in August 2023.