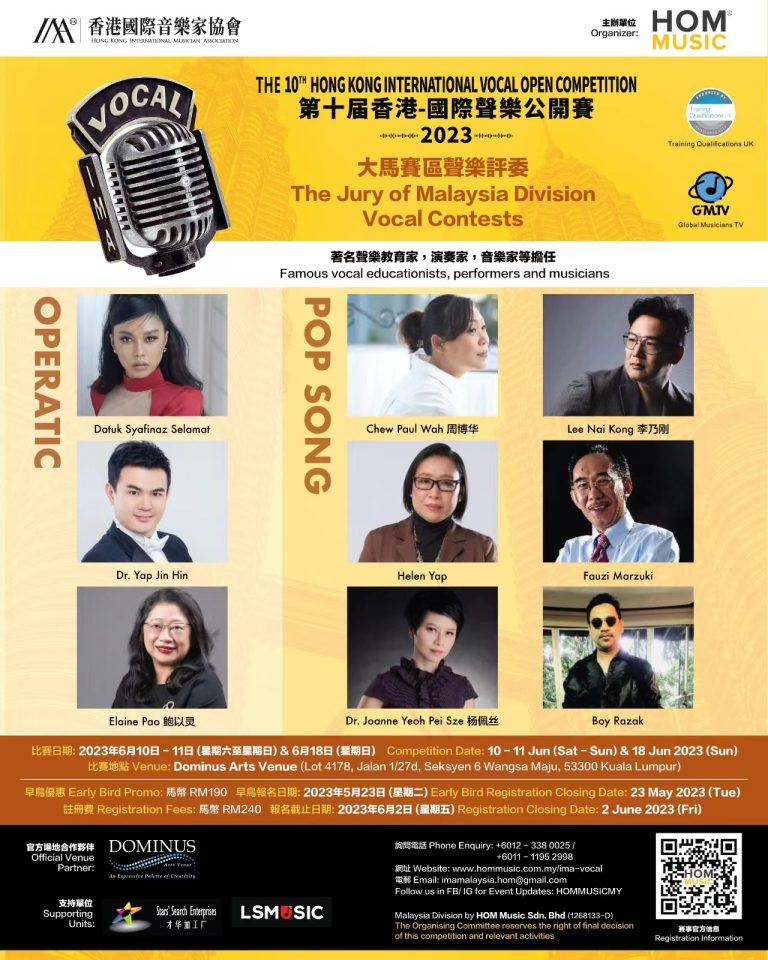 比赛日期:2023年6月10日-11日(星期六至星期日)&6月18日(星期日)
Competition Date:10-11Jun(Sat-Sun)&18Jun2023(Sun)
比赛地點 Venue: Dominus Arts Venue, Kuala Lumpur
早烏報名日期:2023年5月23日(星期二)Early Bird Registration Closing Date:23 May 2023(Tue)
報名截止日期:2023年6月2日(星期五)Registration Closing Date:2 June 2023(Fri)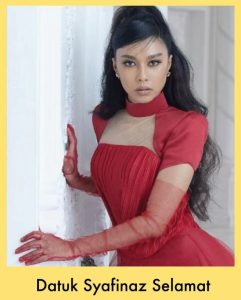 This celebrated vocal master and a prominent soprano is actively involved in the Malaysian contemporary music scene as a singer, host for entertainment programs, and actor. She is also a well-respected judge for singing competitions such as "Gegar Vaganza", "Anugerah Juara Lagu", One In A Million, "Akademi Fantasia", Bintang RTM, Mentor and international/ local choral competitions.
Syafinaz has 3 R&B pop album under her belt. "Syafinaz", "Syafinaz…  Ingin Bersamamu" and "Syyh… Syafinaz". For both her 2nd and 3rd albums, Syafinaz was nominated the "Best Female Vocal In An Album" in the AIM (Malaysia Music Industry Awards). When Malaysia produce our very own 1st Malay Opera entitled "Puteri Saadong", Syafinaz was cast as the main character and received an overwhelming response.
Besides singing Syafinaz was the voice lecturer at MARA University Of Technology (UiTM) Music Faculty, The National Arts Academy (Akademi Seni Budaya dan Warisan Kebangsaan – ASWARA) and The International College of Music (ICOM). At the same time Syafinaz is also the Vocal and Artistic Director for Koir Kebangsaan Malaysia (The National Choir Of Malaysia). In 2020, Syafinaz was elected as one of the Board of Directors of ASWARA.
With her excellent academic background and vast experience she was appointed by the Malaysian government to set up and run the "Permata Seni Koir" (now known as Genius Seni Koir), a platform for talented children with excellent singing ability. As the Choir Director/Conductor, Syafinaz had conducted their performances in Malaysia as well as overseas and was also invited to conduct the Vienna Boys Choir during one of their tours in Malaysia.
Beside these activities, Syafinaz has also directed programs for television, produces choir concerts, produces choir albums and vocal director/arranger for local recording artists and singers.
Among her other achievements are, "Asean Leading Performance Artist" by ASEAN Retail Chains & Franchise Federation, the "Grand Master Brand Icon Leadership Award, Asia Pacific Brands Foundation", and was selected as one of the "Successful People in Malaysia" by The British Publishing House, London and "The Most Admired Leaders Of Asia Award 2019" by Herald Global,India.A favourite performer at gala ceremonies and major events, Syafinaz has performed at the 'World Economic Forum' in Davos Switzerland, the World Expo in Zaragoza, Spain, Dubai World Expo 2020, SEA GAMES in Vientiane, Laos and many more. She was also invited to perform in front of Prince Albert of Monaco in conjunction with Islamic Fashion Festival (IFF) in Monte Carlo, Monaco and at Astana, Kazakhstan. Syafinaz was also invited to perform with The Romanian Radio National Orchestra, at the Malaysian Philharmonic Hall and for Mr. Barack Obama (the President of The United States Of America, first official visit to Malaysia) at the State Banquet.
Syafinaz was awarded the Darjah Kebesaran Panglima Mahkota Wilayah (P.M.W) medal which carries the title "Datuk" from HRH The King for her work and passion in the music industry and education.
Dr. Yap Jin Hin, a Doctor of Musical Arts graduate from Louisiana State University and a protégé of the noted American tenor, Robert Grayson. Dr. Yap Jin Hin has appeared in leading roles with a number opera companies in the United States. Among his performances are Anatol in Vanessa with the Nevada Opera; Count Almaviva in The Barber of Seville; Tamino in The Magic Flute with both Opera Louisiane and the Acadiana Symphony. In 2012 he performed Rodolfo in La Bohème with Opera in the Ozarks. At the Italian festival La Musica Lirica he sang Alfredo in La Traviata. His wide-ranging repertoire includes performances of Don Ramiro in La Cenerentola, the title role in Romeo et Juliet, and the Narrator (Male Chorus) in Britten's The Rape of Lucretia. Dr. Yap is an active performer. In February 2015, He has worked with the Malaysian Philharmonic Orchestra on its productions of Carmen, including the Family Fun Day concerts and the main opera productions. In August 2016, he performed the role of Rodolfo in La Bohème with the Kuala Lumpur City Opera (KLCO). In January 2017, he was invited to perform in Die Zauberflöte with MPO. In June 2017, he performed the role of Tonio in La fille du regiment in Kuala Lumpur and Penang with KLCO. In August 2017, he was invited as the guest soloist in Beethoven's Symphony No. 9 with the Malaysian Philharmonic Orchestra, and Missa Solemnis organized by Yin Qi. In November 2018, he has performed as Pinkerton in Puccini's Madama Butterfly with KLCO, and as Alfredo in La Traviata and Tamino in Die Zauberflöte in 2019. In October 2022, he has performed the role of Don José in Carmen with KLCO. In June 2022, he was invited to perform at the "Grand Night of Opera" with the KLCO Orchestra, and the performance is awarded Best Group Vocal Performance at the 18th BOH Cameronian Arts Awards. In November 2022, he was invited to perform at the inaugural concert of the Morelia Music Festival in Mexico with the Jalisco Philharmonic Orchestra. Last April, he was invited to perform at the Cheong Fatt Tze Mansion in the concert "Verdi & Puccini at the Mansion". Dr. Yap is currently a senior lecturer at the Faculty of Music and Performing Arts of the Sultan Idris Education University
A renowned Choral-Orchestral Conductor and an accomplished and artistic pianist as well as a Piano Collaborator. She went to Westminster Choir College in Princeton, New Jersey, U.S.A. in 1978. Majored in Piano Performance with Harold Zabrack, and for 2 years coached by Martin Katz from The Metropolitan Opera House in piano accompanying. Her academic and musical achievements during these years in the States won her not only Fern Lorena Hood Scholarship, but was also presented membership from a national music society Pi Kappa Lambda. She came back from the States in 1982 with a "Summa cum Laude" in Bachelor in Music and committed herself and her music in two main areas : She has been performing Voice recitals with very good singers from Malaysia, Vienna and USA, conducting Choral-orchestral concerts of Oratorios and Masses like Handel's Messiah, Mozart's Requiem, Mendelssohn's Elijah, Bach's St.Matthew Passion, Cantatas and Magnificat and Haydn's The Creation! Mozart's Mass in C minor K.427 and Mendessohn's Symphony No.5 "Reformation". She was granted a "Chin Yong Art of Music" award in 2012 for her many artistic contributions in the musical scenes in the past. She is also renowned as the organizer of biennial Sacred Music Festival by Yin Qi Choir where she held the post of Conductor and Director for 30 years. It has produced at its height Beethoven's Lieders, Piano Concerto No.4 in G, Symphony No.9 and Missa Solemnis, as well as Mozart's Mass in c minor K.427 and "Glorious Night of Hymns II" with 170 combined choir members to present hymns accompanied by a full orchestra. She was also invited to be one of the judges for a Choral Competition for Secular amateur Choirs and a Church Choir Competition in September 2019. At the beginning of 2020 she collaborated with Soprano Cecilia Yap on the piano for 2 performances of 2 Sacred Song Cycles "A Pilgrim's Songs" by Dvorak and Chia Yin Wu on 4-5/1, pioneering the performance of this music category in a concert opened to the public. A Virtual Youth Music Camp, marks the end of her 30 over years ministry in Yin Qi, organized by the Yin Qi Youth Choir on 27 to 29 August, 2021 with Teacher Elaine Pao, Lydia Oh & renowned Soprano Cecilia Yap as the main coaches to offer to youths and adults an insight into what are the most important elements to impart in music coaching or music ministry. She now runs her own music studio in Puchong focusing on piano, conducting coaching and Biblical teaching on Sacred Music and Appreciation Class.
Started singing career in 1990,is known to be the first Chinese female pop singer-songwriter in the local music scene. Pop Albums released include – Ni Zhi Liu Xia Ji Mo, Ai Wo Gei Wo Zi You, Chew Paul Wah Vol 3 etc.
Teacher Paul Wah won the 1992 Best Album of the Year award (for new artistes from overseas) in Taiwan and best recording, composing, lyrics and performance in the Persatuan Wartawan Hiburan Wilayah Persekutuan. She also took part in the nationwide concert tour of Top 10 Local Chinese singers.
Specialised in Pop Vocal, she has teaching experience in pop vocal since 1992 as well as Professional Artist Performance. Teacher Paul Wah is an established Jingle Vocal Talent, a producer, composer, lyricist, and backup singer/backup vocalist for live concert and album recording. She took part in concert tours worldwide for renowned Artistes such as Fauziah Latiff, Robin Leow. She was also featured in musicals including "Siddhartha" locally and overseas such as South Africa, Singapore, Indonesia. She was invited by Imee Ooi as guest appearance for "Heart Sutra". Teacher Paul Wah was a backup vocalist for various worldrenowned Artistes' concerts, Awards' Concerts, signing competitions and charity show such as APM Anugerah, Akademi Fantasia, Kris Dayanti, Sheila Majid, Shila Amzar, Sky Wu & Jeff Chang, Jenny Tseng, Su Rui, Lisa Wang, Michael Wong, Gary Chow, Sandy Lam, Jacky Cheung concerts etc.
She was also the Pop Vocal training course instructor for Astro Talent Quest and Stars Academy 2 (2022) and Honorable Judge for the Astro Classic Golden Melody competition, 8TV singing competition, Cultures of China-Water Cube Cup Chinese Songs Contest etc. Currently the vocal instructor in Paul Wah Productions providing training and vocal techniques to singers and young people.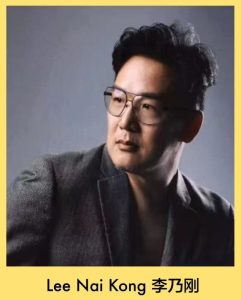 Lee Nai Kong is an international Music Arranger/Music Director/Composer. Projects that he had involved including but not limited to Concerts, Music Platform, TV/Internet Musical Entertainment Programs, Personal & Company IP Music etc.
Credentials as Music Producer/Arranger/Music Director for Singers:
Jacky Cheung, Joker Xue, Aska Yang, Mao Bu Yi, Angela Chang, Siti Nurhaliza, Jorden Chen, Ekin Chang, Alan Tam, George Lam, Nicholas Teoh etc
Collaborated projects with TV/ online stations: JiangSu Broadcasting, Beijing Broadcasting, China Central TV, Hong Kong Film Award, Astro, 8TV, iQiyi etc
Accolades: Nan Yang Top 10 Best Producer/Best Album, AIM Music Award (with Siti Nurhaliza), Top Outstanding Young Malaysian 2014 Honoree (Cultural Category) etc.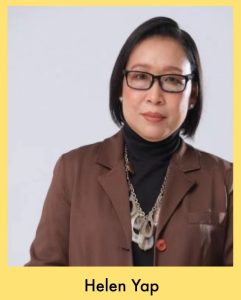 Born in Penang, Malaysia with her own production house, Magic Nova Productions inKuala Lumpur, Helen Yap is one of the pioneer women from Malaysia who studied modern and jazz music at the prestigious Berklee College of Music, Boston, USA in the early 1980s majoring in Professional Music and Film Scoring. Helen Yap has been in the music industry since 1986, over 30 years of experiencein the Malaysian Music Industry.
Helen Yap is an international multi award winning songwriter, album producer, musician and has written and produced hits for Malaysian artistes such as Dato' Siti Nurhaliza, Anuar Zain, Anita Sarawak, Shila Amzah, Enie Zakri, Hafiz Suip, Ziana Zain, Jaclyn Victor, Dato Sheila Majid, Alyah, Noraniza Idris, Stacey Anam, Liza Hanim, Nora, Sharizan Borhan, Leonard Tan, Kool, A to Z, Ning Baizura, Nurul Wahab, Fauziah Latiff, Jay Jay, The Alleycats, Sarah Raisuddin, Amy Mastura, Indonesian artistes namely Glen Fredly, Warna, Rida SitaDewi etc. These include Platinum Award for the Album of Malaysian Artiste Siti Sarah 2003 and Anuar Zain's 2016 Hit single Andainya Takdir, among others.
Helen was the Music Director, Producer and Composer for Anita Sarawak as well as the Music Director/Keyboard Player for the concerts of Shila Amzah and Anita Sarawak, Malaysian TV reality shows such as TV3's Gangstarz, Bintang RTM, Astro's Dari Studio, Astro's Kwek Mambo with Anita Sarawak, Astro's Planet Gempak nationwide tour and Festival Filem Malaysia. She was also the Music Director for numerous artistes for their shows and concerts such as the late Sudirman, Harvey Malaiholo, Misha Omar, Alyah, Hafiz AF, Erra Fazira, Nora, Dato Siti Nurhaliza, Liza Hanim, Mas Idayu, Ziana Zain, Jay Jay, Ningbaizura, Fauziah Latiff, Ramlah Ram, Dato Sharifah Aini etc. as well as for TV3's Lazada Supershow and Festival Filem Malaysia.
Helen also composed We All Will, theme song for The 7th World Summit Media for Children 2014. She arranged and produced the songStanding in the Eyes of the World for US Embassy Kuala Lumpur, In Glory We Celebrate, theme song for The 21st Sea Games in 2001.
Helen also appeared on Radio Television Malaysia (RTM) 2016 Morning talk show "Selamat Pagi Malaysia", "All Berita Nasional on RTM 1 News signature theme id" .
Helen Yap is also a regular judge on Malaysian reality TV shows include TV3's Anugerah Juara lagu, TV3's Mentor RTM's Bintang RTM, Rentak Juara Band competitions.
Fauzi Marzuki, the Malaysian renowned composer, musician audio mixing & mastering engineer, born in Ipoh, Perak, Malaysia. He graduated from Institute Teknologi Kebangsaan (now known as UTM) Major in Electrical.
He started playing music since he was 12 years old. During 1975-1978 he played in one of Malaysia's top bands called "Discovery" which has recorded an album with EMI (M) (1976) with hit songs such as "Katak Lompat", "Penghibur" and "Di Malam Sepi". Later, he join Anita Sarawak's band for one year touring to Japan, Hong Kong, Manila, Singapore, Middle East & Australia. In 1979, he focused in composing songs and recording as well as freelance musician where he gained experience in album recording and producing albums, through the producers such as Ahmad Nawab, Kassim Masdor and Goh Boon Hoe. In 1980, he started producing albums for Blues Gang "Ibu", Yusni Hamid "Ku Tak Mengerti" and Rahimah Rahim "Bebas", Anita Sarawak, Sudirman and many others with hits.
In 1983, he was appointed as A&R Manager in Emi Malaysia where more albums were published such as for Aman Shah "Adik Ku Pandai Menari", Noor Kumalasari "Mata", Anita Sarawak "Asmara" and brought in Sheila Majid. During this period, he gained valuable experience in music business and has the opportunities to work in the world famous studios for recording, mixing & mastering albums such as Abbey Road Studio in London (Arwah Sudirman's album "One Thousand Million Smiles", Toshiba Emi Studio in Tokyo (Sheila Majid's album) and Capitol Studios in Los Angeles (Anita Sarawak's album "Antara Yang Manis"). This has made him the only music producer who has experience and talent in recording music either pop, rock, traditional and others. He was also very much involved in the recording and mastering work of Tan Sri S.M. Salim's album with Malaysia Philharmonic Orchestra at Dewan Philharmonic Petronas. He was also appointed as the Executive Producer (Technical) for traditional album of Dato' Siti Nurhaliza which involved many composers.
In 1983, during the time in EMI Malaysia as Artist & Repertoire Manager, he was the guitarist for the late Sudirman's band.
In 1992, he won 5 out of 6 Composers' Awards held by RTM and TV3. Other awards include "Pujaan 10 Nescafe"; Juara Lagu TV3 (1993), "Anugerah Nadi Cipta(MACP) – 2005 and Anugerah Wirama (AIM) – 2007. In 1997, he then continue as freelance record producer/composer till appointed as Marketing Manager and Audio Engineer in Synchrosound Studio, a very famous State of the Art studio in South East Asia in the year 2000.
From 2001 till 2023, he ran his own studio "Fauzimarzuki Productions", specializing in mixing & mastering and producing lots of local albums for local artists and corporate songs. Since 2016, he started as Broadcast Mixing Engineer and Instructor for TV stations such as RTM and Astro. He also actively involved in creating corporate songs for Petronas, UniMap, Cats Radio Sarawak, Tourism Development Sarawak, National Takaful, Ministry of Finance, Ministry of Health and many more.
During 2017 – 2018, he was the part-time lecturer teaching mixing & mastering techniques at ASWARA and appointed as "Karyawan Seni" for Universiti Sains Islam Antarabangsa and "Karyawan Tamu" for JKKN, Negeri Sembilan from 2020 to 2022. Some of the songs including hit songs written by Fauzi for a number of well-known local singers including:
Datuk Jamal Abdillah "Kekasih Awal & Akhir and "Penghujung Rindu",
Rahim Maarof "Usang",
Datuk Sheila Majid "Lagenda",
Nash "Pada Surga Di Wajahmu",
Shima" Teringin",
Rahimah Rahim "Selamat Berhariraya" "Masihkah Ada Cinta",
Datuk Sharifah Aini "Kau Yang Bernama",
Mawi "Kian" and many more………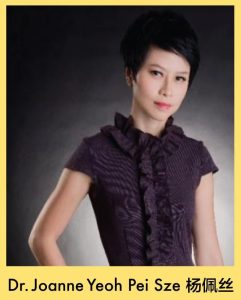 Joanne Yeoh Pei Sze is a much sought after violinist who has performed both locally and on the international stage. She has won numerous awards including The Outstanding Young Malaysian Award, the National Academic Award and the British Council's Professional Achievement Award. She currently lectures as an Associate Professor at Universiti Putra Malaysia and is on the panel of music examiners for Trinity College of Music London. Although classically trained, she also plays in contemporary settings. She has released three solo instrumental albums Pulse of the Metropolis in August 2005, After A Dream in 2013, and Life, Interrupted in 2021.
Awards
• The Outstanding Young Malaysian Award 2004: Personal Improvement and Accomplishment
• Martell's Rising Personality Award 2008
• National Academic Award 2012: Arts and Creativity
• Malaysian Fujian Exemplary Performing Art Award 2017
• BrandLaureate Grand Master Brand ICON Leadership Award 2017
• McMillan Woods Global Icon Award 2019
• British Council Study UK Alumni Awards 2021: Professional Achievement Award Winner.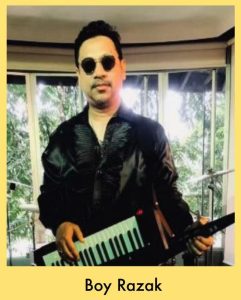 BoyRazak is a famous local music producer, composer, sessionist, music programmer, audio and sound designer, who recently won the "Music Cosmos Composer Competition" in support of the Amazon Frontlines.
BoyRazak has composed various songs for local artistes including Jaclyn Victor, Louis Tan, Eryn, Kay Ebrahim, Faruq Sulaiman, Azhary, Aliff Aziz and many more. He was the keyboardist of Band – Jump-p and Aisunam Band Malaysia.
He also writes songs for dramas and movies, arranges and produces soundtracks including "Musryrik", "Darah Panas" "Tentang DHIA" 'Tingkat Atas Tingkat Bawah" "Bunga Merah Punya" "Embok Belum Terbakar", "I'm Not a Terrorist", "8Belas", etc. He also produced theme songs, jingles, corporate songs, singles and albums, music scoring for movies etc.